This book may be unsuitable for people under 17 years of age due to its use of sexual content, drug and alcohol use, and/or violence.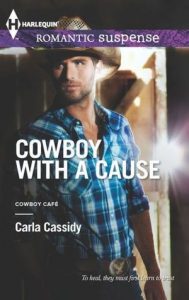 Cowboy With A Cause
by
Carla Cassidy
Published by
Harlequin
on December 18, 2012
Genres:
Romance
Pages:
281
Format:
Kindle
Buy on Amazon
Goodreads
Dancer Melanie Brooks had escaped small-town Oklahoma, giving up the country for Broadway's bright lights. Yet after her mother's funeral called her back, her own health issues forced her to stay. Now her tenant, too-hot-for-his-own-good Adam Benson, is giving her a reason to dance again. But has a killer set his sights on her, too?

Adam knows a little something about fresh starts. As for his beautiful neighbor, he doesn't see a wheelchair—he sees a woman who understands. But as the heat grows between them, he can't avoid the feeling that more than her big-city past haunts her—and that danger has been lurking, waiting to strike….
Prior to the pandemic, I received a beautiful gift of a Kindle Paperwhite from work. Eager to rediscover my Kindle collection, I felt surprised at all the books I owned. I had no rhyme or reason for some of the purchases. Many were simply free to a dollar or less. Hence came the cowboy book.
Romance is one of the genres, which I seem to keep buying, but have such a hard time finding a book that I love. I want that fuzzy ending and while this book was far from perfect, it endeared me.
One of the main things I appreciated, centered on some of the unexpected surprises. Yes, some of the book happened to be predictable, but occasionally, I was thrown off by the author and lead astray, which I found to be a strength of hers. She also knew how to spin some of the Romance tropes very well. I was quite satisfied with Adam and Melanie's relationship and how the story ended with them.
Like all romance novels, they all need a happy ending, however this one seemed to be quite plausible-serial killer aside.
Another great thing about this book is that you don't need to read book one or two to understand everything. The characters themselves explain the events of book 1 and 2 easily, which made it seem like I lucked out not buying them. When I originally bought this book, I had no idea it was part of a series either. It had been that long.
What I found tiresome was the relationship conflict between Melanie and Adam, surrounding Melanie's wheelchair confinement. She doesn't want him stuck with her. He sees her as more than a girl in a wheelchair-he saw a person. It just felt…ridiculous. It seemed like the two needed to have a grown up conversation.
The other part I didn't like was Adam's "pretend" alcoholism. He wasn't really an alcoholic. Just a guy that sometimes goes to AA meetings, cause you know, he drank and felt alone…and he's a good guy, so of course he wasn't an alcoholic. It was wrong for him to even attend meetings. That part irked me, because I've never known anyone to just go to AA meetings, just because. Usually those who attend such meetings, in my experience are grad counseling students that need observation hours for group counseling.
Adam however attended, because he apparently never heard of Netflix or discovered any hobbies to occupy his time when bored and lonely. He's a cowboy, not stupid.
The crime mystery however, was interesting enough to keep me reading until the very end. In fact, because I did like the ending, I went ahead and bought the last book in the installment. Additionally, a cowboy does not usually catch my attention, so the fact that the cowboys in this novel won me over, impressed me. You may also find yourself surprised to see that sexy cowboys make for great romances. That little revelation surprised even me.
This book is special, because it got me back on the reading bandwagon, however it does have its flaws. The romance was slightly steamy, so be aware in case you prefer your sex scenes in romance books to be implied. Overall, the fun easy read helped ease me back into reading, which I appreciated tremendously.
Related Posts