This book may be unsuitable for people under 17 years of age due to its use of sexual content, drug and alcohol use, and/or violence.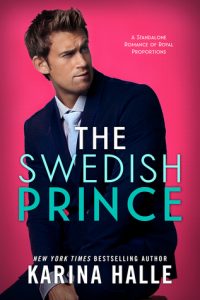 The Swedish Prince
by
Karina Halle
Published by
Amazon Self Publish
on May 19, 2018
Genres:
Romance
Pages:
476
Format:
Kindle
Source:
Kindle Lending Library
Buy on Amazon
Goodreads
I never believed in fairy-tales.

Never held out for Prince Charming.

Growing up poor in small-town California as the oldest of six siblings, I knew I would never ride off into the sunset with anyone. That was even more apparent when a senseless tragedy took the lives of my parents, forcing me to become the sole guardian of our dysfunctional household at the mere age of twenty-three.

Then a fateful encounter literally brought Prince Charming to my doorstep.

At first I thought Viktor was just your average businessman passing through, albeit obscenely handsome, six-foot-five, blue-eyed, and mysteriously rich.

But soon I discovered the truth behind Viktor's façade.

Beneath his quiet, enigmatic gaze and cocky charm, is a man who is running away from who he really is. A role he'd rather not fulfill.

He is Viktor of House Nordin, His Royal Highness, The Crown Prince of Sweden.

Yet uncovering Viktor's secret was only the first step.

I didn't expect to fall in love with him.

I didn't expect to have my whole life turned upside down.

When you're from two different worlds, can your hearts meet somewhere in the middle?

Or do happily-ever-afters only exist in fairy-tales?
What you want to know is why I chose this book. The premise seemed appealing. A book inspired by the classic film, Roman Holiday-who wouldn't read it? Everyone wants a good book about a royal romance, where the poor girl is swept off her feet and lives happily ever after.
This book though is just absurd. No, that's not fair. I found the background and some of the characters to be too unbelievable for me to suspend my belief that maybe, just maybe this could happen.
The main protagonist that left NYU after a devastating family tragedy to take care of a lot of siblings…while plausible- some of her choices were not so plausible. For instance, I can't believe she chose to continue working at her mother's old job as a hotel maid. She went to NYU. She should be a smart cookie. Digital sales, digital journalism, instagram influencer, I don't know, but to go back to the job her mother had?
She didn't even consider becoming a welder or electrician and take some money out of one of those wretched for profit schools? What about front desk hotel clerk, so she could move up and maybe later work towards a hotel management degree? The first year might be rough, but was she really that desperate? The book tells you she was financially strained, but I just found it hard to believe.
Ah, and Viktor. Sexy Viktor. Was he really a Crown Royal Prince? Because although it was evident that there was knowledge about royal families and their daily lives, the guy acted like a lowly baron and duke. No, there's no way his family would have approved him marrying Maggie.
There's no way Maggie was so uneducated she didn't know how to pronounce Chopin. Most elementary and middle schools teach basic music. She went to freaking NYU. You mean to tell me she went around saying, "chopping" or however she butchered his name?
And this is my problem with the story. It's just ridiculous. It has none of the charm of Roman Holiday and instead causes readers to question the two characters. Were they really in love or in deep lust? I vote deep lust.
Possibly the only authentic character in the book was Maggie's younger teen sister. She was bitter, annoyed, and thought Viktor's presence to be stupid and out of place. Which…she was kinda right. Plus she seemed to be the only character that truly understood how the family was grieving. Again…why didn't Maggie pick up on this?
Viktor had that great, knight in shining armor, will defend my love to the bitter end vibe, but at the same time…I would have believed it more coming from a baron. For a lengthy book, I don't think we really got to see how complicated royal marriages or even their set up and engagement can be, despite what the characters said. They had a few incidents, one overly dramatic incident involving the paparazzi, but none of the push-back you would have expected.
I won't vow to never read Halle novels again, as she can write well, but pulling this story together, the plot suffered tremendously. However, if you simply want a hot steamy romance, this will be five star material for you. I just wanted more. And most importantly a more honest look at royal relationships.
Maybe that's why we have The Crown on Netflix.
You can pass on this one. It's too long and she's bound to have shorter sexier romances that hopefully rings true. For me, I'm done with her royal romance series.
And unfortunately for me, I definitely have to reconsider if there are any romance novels that give me the depth I want.
Related Posts