This book may be unsuitable for people under 17 years of age due to its use of sexual content, drug and alcohol use, and/or violence.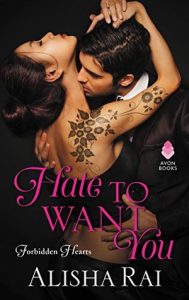 Hate to Want You
by
Alisha Rai
Published by
Avon
on July 25, 2017
Genres:
Romance
Pages:
389
Format:
Kindle
Buy on Amazon
Goodreads
One night. No one will know.

That was the deal. Every year, Livvy Kane and Nicholas Chandler would share one perfect night of illicit pleasure. The forbidden hours let them forget the tragedy that haunted their pasts—and the last names that made them enemies.

Until the night she didn't show up.

Now Nicholas has an empire to run. He doesn't have time for distractions and Livvy's sudden reappearance in town is a major distraction. She's the one woman he shouldn't want . . . so why can't he forget how right she feels in his bed?

Livvy didn't come home for Nicholas, but fate seems determined to remind her of his presence—and their past. Although the passion between them might have once run hot and deep, not even love can overcome the scandal that divided their families.

Being together might be against all the rules . . . but being apart is impossible.
I finished this book a while back, and I keep thinking about it, but not in a good way. The reason this book still lingers on my mind is because I know Rai to be talented. You read the book and you'll find scenes and moments, outside of the main romance that take your breath away. She knows how to show familial relationships and the havoc they wreak on families.
What I hated about this book, unfortunately were three main characters: Livvy, Nicholas, and Nicholas' sister Evangeline whose this infantile young woman.
Livvy though…I don't know if we'd be friends as we're vastly different in some ways. However, the reason I came to hate her, is the reason why I'm not certain if we'd be friends. There is no way I would stand by and allow her to have her HEA with Nicholas. She has issues yes, but damn she deserves better than Nicholas. I wouldn't go all romance trope in between them, but I feel as a friend, I would have begged her to see her therapist and move on from such a conniving jerk. I'd tell her she's worth more than a few one night stands. I don't think Livvy would have listened to me if this was real life and that's probably why I couldn't be friends with her. I couldn't see myself enabling a self-destructive friend, but it doesn't mean I wouldn't try.
Nicholas…he's a jerk. The end. Apparently, a hot jerk. I mean Gavin Rossdale is fine, but you didn't see Gwen sticking around after he acted like a complete idiot.
Evangeline…she's obnoxious and spoiled. I know her story line wraps up the series, but there's no way I would read her story. I'd probably just read the spoiler reviews to see if certain plots ended well.
And to me what made this all the more painful were the erotic scenes, because they felt forced. Not in quality or imagination, more like I kept yelling in my head the last thing these two should be doing is having sex. There's hot and then there's the whole uncomfortable feeling you get when your friend shares all the raunchy details of her escapade with Jerk Du Jour. I know the book justifies their relationship, because "true love," but I just don't buy it. Nicholas is a freaking narcissist, no one should even consider dating him.
Which brings me to the strengths of this book, again the familial relationships and all the great nods and allusions to soap operas. With references to All My Children and a plot that comes straight out from my favorite telenovela of all time, Cañaveral de Pasiones, I definitely wanted to see if Rai's novel had the same shocking end, but at last that would probably be resolved in Evangeline's story. (However, if you loved Evangeline, you saintly reader, you've got to get to the end. This plot and story will be epic.)
I do wonder if the story wasn't a romance between two broken people and maybe if she wrote something similar, but with that novel's "Livvy" saying 'Oh, hell no," to such a worthless man if I would have liked it better. The thing is…I'm pretty sure I would.
She's someone that could easily cross genres if her writing muse ever stirred for stories outside of romantic erotica. I definitely want to read her other novels. As long as I can avoid this particular series as I dislike Nicholas and Livvy's relationship that much.
Related Posts