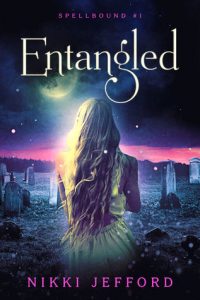 Entangled
by
Nikki Jefford
on February 20, 2012
Genres:
Paranormal Romance
Pages:
241
Format:
Kindle
Buy on Amazon
Goodreads
"Sabrina the Teenage Witch meets Freaky Friday."

A resurrection spell gone wrong…

Hiding her powers was never a problem for seventeen-year-old Graylee Perez. Not until her diabolical twin sister decided to go on a rampage that could expose them all.

To add to the aggravation, coven reject Raj McKenna catches Gray performing a complex spell and is convinced they would make a powerful couple. He can delude himself all he wants. Gray has sworn off dating warlocks, especially delinquents who play with fire.

But even Gray's mysterious death won't deter Raj, not after Gray is brought back from the great beyond. Only she's not truly back. Her body's still six feet under and she's on borrowed time.

There are forces threatening Gray's existence and a powerful wizard willing to help . . . for a price. Gray doesn't know who to trust or how long she has left before she vanishes for good, but she's determined to stick around no matter what the cost.
This is one of those, glad I started reading them, but won't be finishing the series type of review. As I purchased this ages ago, I can't tell you what initially drove me to the series, aside from the original cover.
The concept behind a dead twin fighting control over her sister's body is interesting enough. In fact, I liked the idea of Raj, the Indian romantic interest, for its inclusive factors and personal reasons. I'm married to a Pakistani guy, so novel characters swooning over hot South Asian guys is a win for diversified male leads.
However, the evil twin sister Charlene and Graylee's mother, ruined the book for me. Charlene's hysterics and no one taking her suicide attempts seriously turned me off. Becoming evil out of nowhere, also didn't help Charlene.
The mother was also odd, because her reactions were never realistic. She behaved in a neglectful manner, but readers saw her described as a loving and caring woman. Yet, her actions said the opposite at times.
The highlight to me was the romance, but with the confusing reasons behind Charlene's motivations, it was a bit difficult to enjoy. I cared enough to continue on to book 2, but it left me with more questions than answers.
Duplicity
by
Nikki Jefford
Published by
Amazon Self Publish
on May 19, 2012
Genres:
Paranormal Romance
Pages:
250
Format:
Kindle
Buy on Amazon
Goodreads
Double Trouble!

Graylee Perez cheated death… and now death is coming to collect.

Life's not perfect for "Lee" 2.0, but pretty darn close. She's alive at least! And she has the best boyfriend in the world--one who knows all her darkest secrets and doesn't run screaming.

Then her powers backfire.

Charlene returns from boarding school in France claiming that she, too, is Graylee Perez. Impossible, right? Maybe not, thanks to a certain avenging warlock's meddling.

If Lee thought sharing a body with her twin sister was bad, dealing with a duplicate of herself is two times worse. Gray the second doesn't seem to get that Raj McKenna is off-limits. Then there's the problem of Adrian Montez. He expects one of the Grays to be his and he'll fight dirty to get what he wants.

Nearly a year later, the council is on to them for past misdeeds; Lee, along with the rest of the coven, has lost control of her powers; and, Gray is being stalked by what looks like the Grim Reaper.

If the two Grays work together, they may stand a chance of setting things right. But will they both make it out alive?
Book two happened to be very disappointing and ultimately lead me to the decision to not continue on with the series. Again, the author did a great job of coming up with a unique premise.
The spell that Adrian Montez performed at the end of Book 1 created a duplicate Graylee. At this point, the other Graylee has become accustomed to life as Stacy Moorehouse and has renamed herself "Lee".
Imagine having a duplicate version of yourself in your twin's body. There should be so many ethical dilemmas and high angst or drama, but it never seemed to go beyond, "She's annoying," and the mother as always not seeming to have any type of emotional reaction. You would think she'd at least worry about Charlene or wonder if one of them is not the real Graylee.
There were also issues involving a boy's behavior towards one of the female characters. I didn't like the whole did he/didn't he do something sexually inappropriate as I don't think it was handled well.
Towards the end, the characters finally seemed to realize the complexities behind the situation and addressed it for the first time. By then I lost interest. The book blurb for book 3 confirmed the several clues dropped along the way in this series. I decided to imagine the ending in my head as it probably would make more sense that way.
For my teacher friends out there, this isn't a series I recommend adding to your classroom library. With all the issues, I feel there are better books out there that touch similar subjects.
Related Posts