This book may be unsuitable for people under 17 years of age due to its use of sexual content, drug and alcohol use, and/or violence.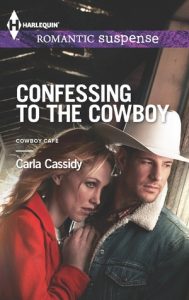 Confessing to the Cowboy
by
Carla Cassidy
Published by
Harlequin
on June 4, 2013
Genres:
Romance
Pages:
288
Format:
Kindle
Buy on Amazon
Goodreads
The Price of Deadly Secrets

Someone is killing waitresses at the Cowboy Cafe. Three women are dead, and Sheriff Cameron Evans means to find out why. But as he works to solve the case, the hunky sheriff must push beyond his feelings for the cafe's owner. There's a murderer on the loose. Passion has no place here.

For Mary Mathis, the crime is personal. Not only are the victims her employees, they may be a sign of something deeper. Eight years ago she came to Grady Gulch fleeing a violent past that has scarred her for life. Now she has to discover if that history is dooming the women who work for her. She already knows it has made new love impossible;no matter what she may secretly desire.
Where the previous book Cowboy With A Cause enchanted me, this book did the opposite. The series fell flat. The personalities the previous couple had, this new couple Mary and Sheriff Cameron happened to lack the charisma the other couple had from the beginning. In fact, why are they even together other than being lonely and desperate?
Yes, Mary has a dark secret. In fact, you'll be able to guess her secret early on. Sheriff Cameron is the guy who decided he shall stay single forever, because no one is as lovely as Mary.
Possibly the most interesting part about the book happened to be the identity of the villain in the very end. I don't read romantic suspense often, so that surprised me. Aside from solving the crime, I cared little for the couple and was more interested in updates about Adam and Melanie, which you do get.
Once you get to the ending, it happens to be boring too. The book isn't dreadful, but you can skip it without any regrets.
Related Posts