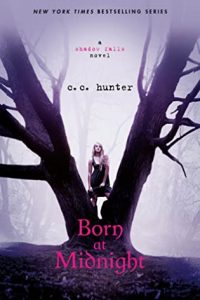 Born at Midnight
by
C.C. Hunter
Published by
St. Martin's Griffin
on March 29, 2011
Genres:
Young Adult
,
Paranormal Romance
Pages:
398
Format:
Kindle
Buy on Amazon
Goodreads
Don't miss this spectacular new series that will steal your heart and haunt your dreams, Welcome to Shadow Falls camp, nestled deep in the woods of a town called Fallen…

One night Kylie Galen finds herself at the wrong party, with the wrong people, and it changes her life forever. Her mother ships her off to Shadow Falls—a camp for troubled teens, and within hours of arriving, it becomes painfully clear that her fellow campers aren't just "troubled." Here at Shadow Falls, vampires, werewolves, shapeshifters, witches and fairies train side by side—learning to harness their powers, control their magic and live in the normal world.

Kylie's never felt normal, but surely she doesn't belong here with a bunch of paranormal freaks either. Or does she? They insist Kylie is one of them, and that she was brought here for a reason. As if life wasn't complicated enough, enter Derek and Lucas. Derek's a half-fae who's determined to be her boyfriend, and Lucas is a smokin' hot werewolf with whom Kylie shares a secret past. Both Derek and Lucas couldn't be more different, but they both have a powerful hold on her heart.

Even though Kylie feels deeply uncertain about everything, one thing is becoming painfully clear—Shadow Falls is exactly where she belongs…
If you're an adult, you're not supposed to love every young adult novel you read as the target audience happens to be adolescents. There may be some timeless novels out there, but simply because you didn't like it, doesn't mean necessarily it's not "good".
Born at Midnight failed to capture adult me. However, I can see teens giving it a strong 4 or 5 star review.
The plot is interesting enough, and I felt the teens were highly realistic, even the protagonist's more annoying qualities. Kylie acts like a normal obnoxious teen. She's honest, and generally a good kid. I've taught many Kylie's in my life. Yet, as an adult, I don't want to read about Kylie's. I want to discover someone who would stick with me after the novel. To be frank, I had to look up Kylie's name. Lucas is probably the only character that stuck with me, as I can envision him having a grand plot.
The novel has an interesting take on supernatural creatures. Diehard fans of vampires and werewolves may not be too pleased with this interpretation. However, for a teen audience, I do think they'll appreciate the effort to intertwine the issues of supernatural creatures with some of the issues teens as a whole go through-especially acceptance and self love.
Definitely, throw this book at your voracious teen readers. If you're an adult into the YA genre, I recommend skipping the series. You won't lose much and you already know the title, so you can keep it in mind, should a teen you're responsible for either as a parent or teacher asks for recommendations.
Related Posts