This book may be unsuitable for people under 17 years of age due to its use of sexual content, drug and alcohol use, and/or violence.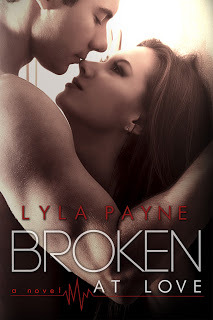 Broken At Love
by
Lyla Payne
Published by
Amazon Self Publish
on March 8, 2013
Genres:
Romance
,
New Adult
Pages:
340
Format:
Kindle
Buy on Amazon
Goodreads
When a knee injury ends twenty-year-old Quinn Rowland's pro tennis career, he's not only dumped by his hot Russian girlfriend but ordered to attend college by his disinterested billionaire father. A rich kid who's not used to being disappointed by life, Quinn and his sociopathic half-brother Sebastian create a frat house game intended to treat girls how they see them—as simple game pieces to be manipulated for their pleasure.

College sophomore Emilie Swanson knows Quinn's reputation—after all, he did send one of her sorority sisters into therapy earlier in the semester—but the game and his charm bring them closer together and soon she starts to believe there's more to Quinn than people think.

But what if the more is something darker than a game of toying with emotions and breaking hearts?

Quinn and Emilie might be falling for each other, but there are secrets he's not ready to tell—and lifestyle changes he's reluctant to make. She willingly stepped on the court, but if Emilie finds out she started out as nothing as a pawn in Quinn and Sebastian's twisted game, she might never forgive him.

To his surprise, Quinn finds that he might finally care about someone more than he cares about himself…even if that means letting Emilie walk away for good.
Otherwise known as Broken Insufferable Rich People.
I wanted to finish this, I really did as I bought it years ago for a steal at $3.99. However, my tastes have changed so much, that reading this kept annoying me. Originally, I planned to plow through, when my husband kept hearing me gripe about this book.
"Just don't finish it."
What?
There is only one other book in existence I haven't finished, which is called Moo. However, he was right. Time is short, there are books aplenty and I could be reading my next favorite read, then suffering through this.
Issues:
MONEY: Everyone is obscenely rich and those who are lower upper class rich or upper middle class believe losing a trust fund somehow makes them destitute by the way they explain things. I get it's a book about rich people, but this is the kind of thinking that got Marie Antoinette's head chopped off.
Oh your tennis career is over? Daddy won't pay for you to become a painter and wants you to major in business? So sad. No, it's not. The rest of the US either majors in something that guarantees a career and works on their passion project on the side. Or the possibility of poverty and working low paying jobs lacks the risks that scares others off if it involves a dream career.
NO INTEGRITY: Everyone in this book was awful. The narcissistic half brother Sebastian who will most likely end up in prison for some Wall Street crime, unless he becomes a serial killer first. Quinn the main love interest, who also exhibited personality disorder traits who others saw as hot and broken. Don't forget the heroine Emilie who sucked as a friend.
Emilie is literally the girl every Instagram post talks about when they say throw out toxic friends. She wanted to sleep with the guy who emotionally traumatized a sorority sister and roommate. Her roommate was an emotional mess, but Emilie's excuse for this was, "Well, I promised my sister to live my life." No, girl. You promised your sister to live your life, not be a crappy friend involving yourself with someone that inflicted trauma on another person. She disregarded that person's trauma using the dead sister card. If Emilie did not have the dead sister card, most women wouldn't want to be near her. That's like telling your friend someone emotionally abused you, and a week later your friend starts dating the bastard, because the fling wasn't that serious. She shouldn't have slept with him so soon.
Her friend gets beat up and sent to the hospital. Rather then call, check on him…she needs to get frisky with Quinn. It felt painfully obvious that Toby was attacked by Sebastian's henchmen. Knowing Emilie she decided not to care, "because Quinn is so hot and I might get to sleep with him to live my life."
Aside from my husband telling me to quit what became the deal breaker?
The sex and race issues. Emilie was white and Peruvian, but it felt like a stapled add on and nothing more. The Latina maid at Quinn's father house. To have the whole, "will call ICE" card and the fact she stayed…no just no. The girls who slept with Quinn before were whores. And once I learned Sebastian's mother was the "Whore Mother," I couldn't take it anymore.
This was not a romance book. This was about a trio of awful people justifying their awful actions, but because two of them are less awful they're the heroes in lust.
No.
While I wish the author a lot of success, her style isn't for me.
Related Posts