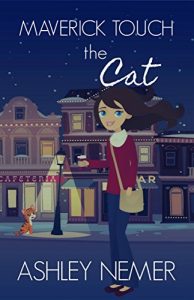 Maverick Touch: The Cat
by
Ashley Nemer
Published by
Art of Safkhet
on March 25, 2013
Genres:
Mystery
Pages:
132
Format:
Paper
Buy on Amazon
Goodreads
Reporter Nadia Maverick takes an adventure through the underbelly of her town where she discovers that even the criminal life she had been reporting on isn't quite like it seemed.

Things turn bad for Nadia when in the middle of an investigation the tables are turned and she becomes the one under the watchful eye of Mr. A. Everyone becomes a suspect when Nadia turns up missing.

Who will be there to set her free?

Read and see.
I'm not sure where to even begin, so I'll start with some positives about the author. I met her at a convention and she was very friendly. She helped lead a panel discussing the publishing and writing world. She impressed me enough to talk to her at her booth. During that small chat, maybe no more than five minutes, I ended up buying a few books from her.
When you look up the information she shared about publishing and writing, you'll find she knows what she's talking about. In fact, I'd listen to her talk at a panel again, anytime.
This book though…
The plot doesn't seem to begin until the midway point and by then as a reader you may find yourself bored. Passive voice dominates the series and the author focuses way too much on the mundane. For instance, a whole chapter dedicated to Nadia shopping with her nephews to buy supplies/groceries left me thinking her beta readers mislead her.
None of that helped speed the plot along or even mattered.
The justification of Nadia's behavior seemed also ridiculous, but it became more absurd as random facts were revealed about her brother and sister. I started laughing, because again, they didn't do anything to help with the plot.
Oh…and the big mysterious Mr. A…everyone's reactions to him seemed ridiculous. You want to talk to him Nadia…sure let's not try to have an intervention, cause girlfriend, you have issues.
Paperback note – The shift between Nadia and Mr. A's point of view at times was sudden. The asterisks or paragraph breaks weren't included. I know I have an early paperback edition, so that may not be an issue for newer editions or the kindle version.
The highlights. The dialogue shined, as long as it wasn't making excuses for Nadia's behavior. My favorite characters happened to be the secondary characters as they were allowed to develop naturally. Nadia's best friend, her brother, and parents all seemed to have great moments showing who they were. In fact, I think the brother probably would have a great novel's worth of story to tell. (The sister and nephews seemed to be more of a crutch for Nadia, to show who she was. I didn't care too much for them.)
I still have a few more books of hers to read, but I'm not too excited as the weird relationship between Mr. A and Nadia kept me scratching my head. I am however, looking forward to seeing her growth as a writer.
Related Posts